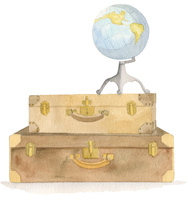 End our social distance?
— —

Hel­lo again. We've prob­a­bly met before at a tast­ing or din­ner par­ty. (Oh, how we miss big din­ner parties.)
But in these crazy times, you do what's pos­si­ble. We've decid­ed to start an occa­sion­al blog to con­nect and keep up with every­one. Please, pour a glass and sit awhile.
So much has changed. Like you, we've been in and out of stay-at-home orders in the Stag's Leap Dis­trict of Napa. We've watched the gov­ern­ment changes and polit­i­cal strug­gles hap­pen­ing close by, and on the oth­er side of the coun­try. We've dealt with increas­ing­ly wild weath­er here, wind to wild­fires. And then there are the pandemic's effects in waves, sneak­ing in everywhere.
What can you do? We've had to put aside our usu­al wan­der­lust and fig­ure out how best to move for­ward. We've dug in, lit­er­al­ly, to this land. We're plan­ning new vine­yard blocks. And we've thought much about our begin­nings here and where we'd like to go.
When our fam­i­ly first kicked around pos­si­ble names and land­ed on 4 Winds, Roy was just arriv­ing in Cal­i­for­nia after years in Asia build­ing a cre­ative tech busi­ness that he'd recent­ly sold. It was a home­com­ing for him, return­ing to the Pacif­ic coast where he'd gone to college.
Jane, mean­while, was thrilled to wel­come her son to this hill­top estate she'd pur­chased more than 15 years ear­li­er. Ever the out­doors­man, Roy began to hike parts of the 111 acres dai­ly and watch the hawks fly­ing over­head. He'd help open and fill the wine cel­lar (once used for fur­ni­ture stor­age), and he worked with Thomas Rivers Brown to plan for the first estate vines at 4 Winds.
Roy also rekin­dled a rela­tion­ship with Mau­ra, who he'd dat­ed at UC-San­ta Cruz in the 1990s. She vis­it­ed him at 4 Winds and fit right into the wine coun­try lifestyle. She was soon pulling on boots and den­im to help with the gar­den and the live­stock-guard­ing dogs, and even­tu­al­ly a flock of egg-lay­ing hens. We're hap­py to announce that Mau­ra and Roy are plan­ning a wed­ding cel­e­bra­tion at 4 Winds in 2022.
We'll sure­ly to have more to share about love and wed­dings in upcom­ing posts. Of course, we're also eager to bring updates about the Caber­net Sauvi­gnon we are grow­ing and wines we're bot­tling. We can share some his­to­ry of the region and lessons from this unique ecosys­tem. And we're sure to have recipes from the kitchen gar­den, farm sto­ries and wildlife sight­ings. Maybe some music and book rec­om­men­da­tions, too.

Late­ly we've been back into John Stein­beck, and his famous nov­el ​"Of Mice and Men" that's set in the val­leys and moun­tain­sides of Cal­i­for­nia. It's some com­fort to think of scenery from the 1930s that's so time­less­ly close to what's out­side our win­dows, even in such a bizarre year.

​"Evening of a hot day start­ed the lit­tle wind to mov­ing among the leaves," Stein­beck wrote. ​"The shade climbed up the hills toward the top. And then came the sound of foot­steps on crisp sycamore leaves…"

We turn the page for more. And we invite you to stick with us, for tales ahead from 4 Winds.

Best regards,
The Chapin Family